Celebrate the 90
th
anniversary of Camp Workcoeman with a
limited edition hat
. Orders must be placed by March 15.
The 2014 camp season is fast approaching. Remember to
sign up now!
In recognition of Camp Workcoeman's Ninetieth Anniversary, we will post a historical vignette each week from now until the summer camp season opens. These can be found on the camp's
Facebook page
as well as
on this site
.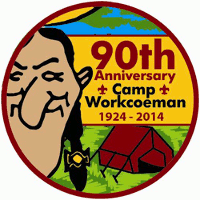 Camp Workcoeman is used year-round for short-term camping for all Scouting Cub Packs, Scout Troops, and Venture Crews, as well as for district and Order of the Arrow activities.
During the six week summer camp season, over 1,200 Scouts enjoy unforgettable Scouting experiences. The summer camp season consists of 5 weeks of Boy Scout Resident Camp and one week of Webelos Resident Camp and Cub Scout Day Camp. It is also home to Laurel Music Camp.
Why should your troop attend summer camp at Camp Workcoeman?
A Quality Program

A flexible program, tailored to the needs of your troop from the new Scout to the veterans.

A Dedicated Staff

A Camp Director with 34 years experience and a trained, high quality staff that return every year. Flexibility, caring, and dedication are the essential qualities that make up the Camp Workcoeman Staff.

A Consistent Philosophy

You want the best summer program, and the staff is here to deliver the finest program available to your Scouts!
About Camp
Camp Workcoeman is located in the hills of northwest Connecticut in scenic New Hartford. The camp consists of approximately 427 acres on the shore of beautiful West Hill Pond, possibly the cleanest in Connecticut.
Established in 1924, it is one of the oldest continuously operated Scout camps in the country. For 90 years, thousands of Scouts and Scouters have had unforgettable Scouting experiences at Camp Workcoeman. This fine tradition of Scouting continues today.
Phone
Camp Workcoeman

Office: (860) 379-2207
Nurse: (860) 379-1756
Fax: (860) 379-1311

Connecticut Rivers Council

Office: (860) 913-2700
Fax: (860) 289-6447
Address
169 Camp Workcoeman Road
New Hartford, CT 06057